We have procured the core technology for an environmentally friendly fuel cell generator and are promoting performance enhancement in preparation for early commercialization of the renewable energy of the future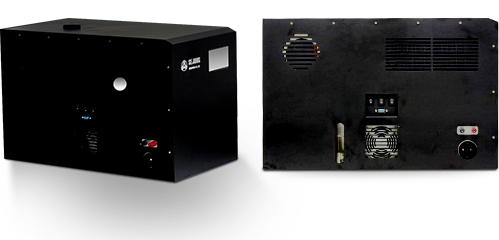 SEJONG INDUSTRIAL Co., Ltd.has developed a portable fuel cell system which uses hydrogen energy and proudly introduced an environmentally friendly portable generator with no harmful emissions. The generator we have developed is a power generator which changes liquefied petroleum gas into hydrogen gas and then turns it into electricity. It is possible to be used in places where supplying electricity is difficult or in emergency situations, etc.
About the Environmentally Friendly Fuel Cell Generator
The fuel cell generator is a device that converts chemical energy directly into electrical energy, and uses LPG as fuel to generate heat and a catalyst to cause a chemical reaction. It consists of the hydrogen-producing reformer, the fuel cell stack which produces power using the hydrogen, the power converter which uses the power generated in the stack to charge the battery and supply the user with power, and control devices which control and safely manage each of the components. The fuel cell generator we have developed at SEJONG INDUSTRIAL Co., Ltd. has the advantage of allowing the user to use electricity immediately without any waiting time, and is a highly efficient, environmentally friendly generator which can be applied to a variety of electronic products as it has a built in inverter and converter and can simultaneously use 12Vdc and 220Vac power.
Generating Power Wherever You Need It
The portable fuel cell generator developed by SEJONG INDUSTRIAL Co., Ltd. lasts longer time than conventional batteries and because it has such high portability, it is can be used not just for leisure, but as a power source throughout all industries.

Technology for Thermal Efficiency and Compactness of the Fuel Processor Hydrogen energy is gaining attention as the next generation renewable energy source to replace fossil fuels which have universal problems such as energy depletion and negative environmental implications.

At SEJONG INDUSTRIAL Co., Ltd., we are conducting research to improve reforming technology which uses high-efficiency LPG to create hydrogen and technology for high-efficiency compactness, and to diversify fuel sources.
PEMFC Fuel Cell Stack Technology PEMFC stands for proton exchange membrane fuel cells. We are increasing the durability of the stack which is the core engine of the system to maximize the efficiency of the fuel cell power generation system which is equipment for obtaining electricity through hydrogen-related chemical reactions, and we require technology to reduce the required activation time. In particular, because the portable fuel cell power generator uses reformed hydrogen gas, we are focusing on developing a high-quality, high-efficiency stack optimized to the conditions of reformed gas.
Power Conversion and Energy Storage Technology of the Portable Fuel Cell Generator At SEJONG INDUSTRIAL Co., Ltd., we are maximizing power transfer efficiency by reducing size and weight in order to increase portability and efficiency of the portable fuel cell generator, and we are continuously making our best efforts to secure optimized design technology which modulates the power converter, which comprises the charger, inverter and converter, into one system to allow for easier charging and output management.

In addition, we are striving to develop a high-quality, high-efficiency product with excellent durability and a long lifespan even with repeatedly charging and recharging.