We have global competitiveness as we take the lead in the production of eco-friendly and high-efficiency electromechanical part technology.
SEJONG INDUSTRIAL Co., Ltd. is acquiring core part technology in preparation for full-scale commercialization of hydrogen fuel cell automobiles, and is doing its utmost to develop fusion technology grafted with electro-mechanical technology as well as to take the initiative in the development of intelligent smart car technology.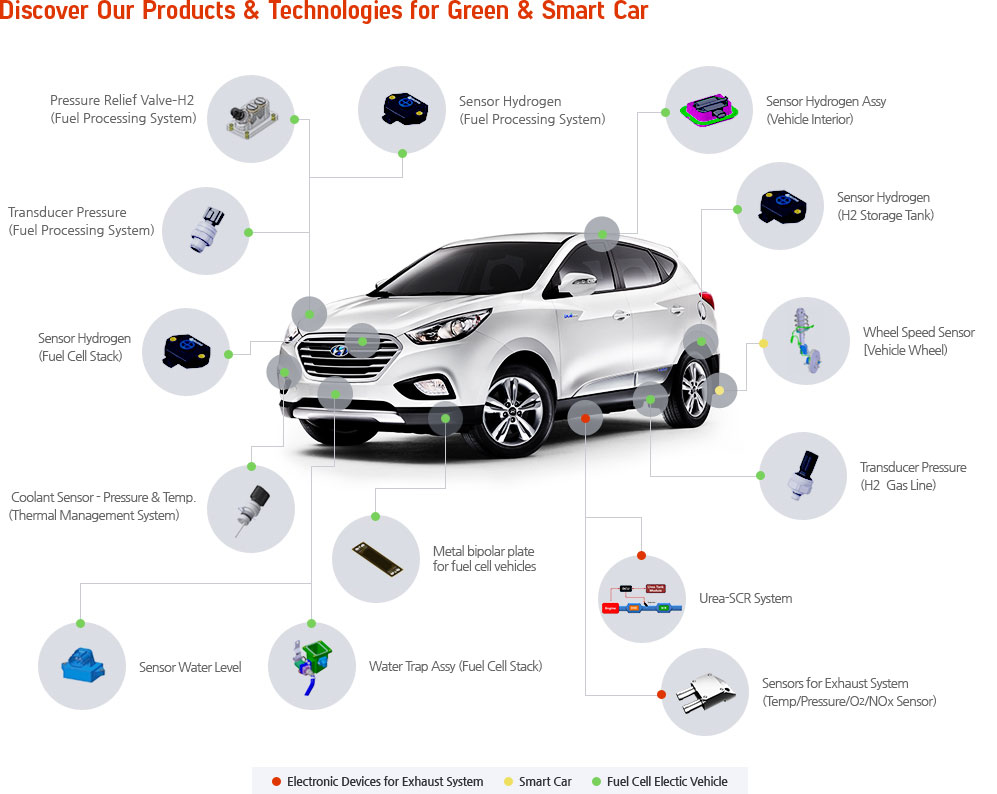 Metal bipolar plate for fuel cell vehicles

Metal bipolar plate is core component of the fuel cell stack along with GDL(Gas Diffusion Layer), MEA(Membrane Electrode Assembly). Hydrogen and air, which are reaction gases, are uniformly supplied to the active area by metal bipolar plate. Also, it functions as a current transfer and water emissions generated by the electrochemical reaction.

Research, product development performance and success case


2015. 08 : Development of non-humidified MEA and metal bipolar plate (National R&D project)

2018. 09 : Development of large-area metal bipolar plate (National R&D project)
Hydrogen Sensor

This is a sensor for detecting hydrogen leaks and evaluating the safety of the vehicle. We are the first company in Korea which has succeeded in developing the hydrogen sensor using MEMs technology and the first to mass produce this part.
Pressure Sensor

This is a sensor for monitoring the operating pressure of the hydrogen pipe and fuel cell stack entrance/exit which leads from the hydrogen storage device. It uses fuel cell system hydrogen gas, and because it is operated in an environment of high humidity, there are still a variety of issues to be resolved due to freezing in cold climates. SEJONG INDUSTRIAL Co., Ltd.'s pressure sensor being developed and prepared for mass production with a combined-function which is safe, overcomes climate-related problems, and measures both pressure and temperature.
Pressure Relief Valve–H2

This is safety equipment which is installed in order to protect the system by reacting to pressure which has exceeded regulations during abnormal operation of the fuel cell system while driving. SEJONG INDUSTRIAL Co., Ltd. has developed a pressure relief valve for optimum performance in a humid hydrogen environment, thereby contributing to the safety of fuel cell cars.
Water Trap

This is a functional component to control the condensation of vapor produced in the fuel cell stack in order to optimize the performance and reinforce the durability of hydrogen fuel cell vehicles. At SEJONG INDUSTRIAL Co., Ltd., we have developed a non-contact water level sensor which has superior responsiveness to precise detection of the water level without coming into direct contact with the condensate. It is a highly reliable product with optimum performance in a hydrogen gas environment, as required in micro-engineering.

Hydrogen Supply and Discharge Technology for Hydrogen Fuel Cell Vehicles Our R&D Center is ensuring the safety of fuel cell vehicles by developing a hydrogen supply system core module to supply, recycle and discharge hydrogen gas with a suitable pressure and flow rate to the fuel cell stack, which contributes to performance optimized to all environments. SEJONG R&D Center is accelerating continuous development of new technologies.

We are focusing not only on reinforcing durability, but also on ensuring low temperature ignition and perfecting hydrogen emissions reduction technology to remove the hazard of surplus gas in preparation for mass commercialization of future eco-friendly vehicles.
High Precision Sensor Chip Design Technology which Combines MEMs process By securing thin-film design technology combining micro electromechanical system process technology, we have improved low-power consumption and reaction speed which are the core performance components of the sensor. The high-precision sensor chip design technology is an advanced technology which makes it possible to establish foundation of mass production, increasing product price competitiveness and improving productivity.

SEJONG INDUSTRIAL Co., Ltd. will not hesitate to actively invest in and supporting research and development for the procurement of advanced technology in the domestic sensor market which currently relies on imports.
Exhaust After-treatment to reduce Nitrogen Oxide We are doing everything we can at SEJONG INDUSTRIAL Co., Ltd. to secure technology to reduce nitrogen oxide in exhaust gas in accordance with the globally tightening regulations on emissions (Euro-6, NOx).

The urea-SCR system which injects urea (aqueous ammonia) into the exhaust system via the dosing control unit, purifies harmful gas contained in the exhaust gas by using a redox reaction of nitrogen oxide. We are endeavoring to promote technological development for full-scale commercialization by introducing advanced technology to ensure improved performance and reliability of the urea-SCR system to secure our own technology.
Technology for Electromagnetic Wave Resistance Circuit Design As semiconductor chip technology becomes miniaturized and obtains high-speed and low-power capability, the electromagnetic resistance of electronic devices may become lowered. Since sensors and control devices, etc. are particularly connected with the safety of the driver, there is a need for design technology which can be applied to external electromagnetic disturbance as well.

SEJONG INDUSTRIAL Co., Ltd. is preventing system malfunction caused by external electromagnetic disturbance and possesses unrivaled design device/circuit/software design technology which doesn't damage performance or hinder external leakage radiation of high-frequency power. We combine high-frequency external interference waves with electromagnetic waves to prevent adverse effects on the system through noise filtering and PCB design technology.
Manufacturing technology of metal bipolar plate SEJONG EV has flow field forming technology for each thin plate metal material. In addition, SEJONG EV has gasket technology for airtightness and coating technology for improving bipolar plate performance for corrosion / durability / conductivity.

Also, SEJONG EV built manufacturing technologies such as assembling, inspection and evaluation, and are producing metal bipolar plate on a large scale. Finally, SEJONG EV is developing technology in various fuel cell fields by investing actively and supporting commercialization.